Type of fur: SAGA blue fox
Origin: Finland
Made in Paris, France
secured with a necklace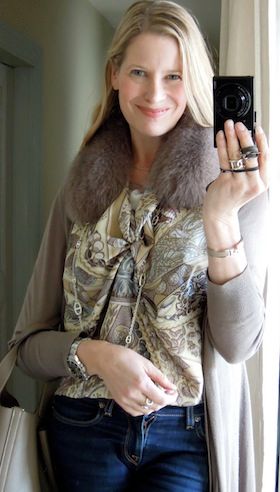 Each pelt comes with a denser undercoat around the flanks, and lighter fur around the neck and back. It is therefor not possible to make standardized collars. Some are thick and plush, and others light and fluffy. In terms of quality, there is no difference between the various (usable) parts of a pelt, it is more a question of personal taste.
left: light and fluffy, right: dense and plush
Should you have a preference either way, please include a note with your order (either during the check-out process, or via email to: maitaicollection@orange.fr), and I will do my best to select the closest possible collar according to your wishes.
with a 90 Carré in a Ascot knot